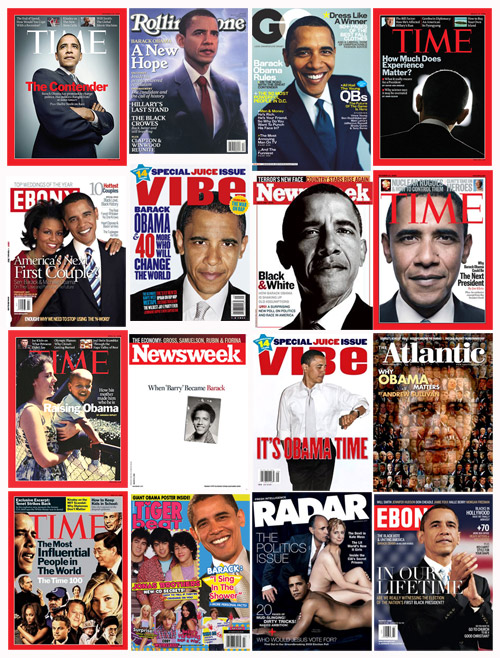 Much scares me about how America will change under an Obama administration.
Politicians typically hide their more extreme policy plans until after the election, but here are some of his already-announced proposals that I believe will be bad for the nation:
1. Obama's proposal to make it much easier to unionize, for example, no secret ballot required. So, a union organizer could come to your home and twist your arm into signing. If 51% of a workplace's workers sign, it's unionized.
Unionization yields a net negative to the country. Just think of our leading unionized industries:
· Auto -- Massive layoffs resulting in many long-term unemployed people. We've ceded industry leadership to foreign automakers.
· Steel -- Also brought to its knees, many steel workers having lost their jobs.
· Teachers -- Tenure after just two years, which they retain for life even if quite burned out and educating kids poorly.
· Government, notorious for inefficiency.
I don't want to expand that to the rest of the nation.
2. Obama's advocacy of "The Dream Act," which would allow illegals to attend our most prestigious public colleges (e.g., UCLA, Berkeley, Michigan) and at in-state rates.
Because of many colleges' reverse-discrimination admission policies, The Dream Act would mean that many legal residents with A grades and high SAT scores would be rejected from those colleges, even if they're willing to pay the very high out-of-state tuition, while illegal immigrants with B grades and low scores would be admitted, paying in-state tuition and usually receiving financial aid and scholarships so they end up paying much less than that.
That is not just unfair but also deprives some of our best and brightest from access to our top colleges, where they're more likely to fully develop their potential, and thus be better able to address society's problems.
3. The $150 billion that Obama wants to spend on alternative energy. Those will be sloppy seconds: the investments that the private sector wouldn't have made on its own. (Remember the ethanol boondoogle?) Yet Obama wants to force the ever-more-strapped taxpayer to fund yet more risky schemes.
4. Obama's proposal to spend yet more on education so, for example, all students are able to go to college.
On first blush, like most politician soundbites, that sounds good, but as I've written, for example, in my article in the Chronicle of Higher Education, America's Most Overrated Product: The Bachelor's Degree, we already send too many students to college. Digging yet deeper into the high school barrel will cause colleges to further dumb-down instruction and will discourage not-academically-oriented high school graduates from pursuing post-high-school options that are more likely to lead to their career and life success:
· apprenticeships
· short-term career-training programs at community colleges
· learning entrepreneurship at the elbow of a successful small businessperson
· and yes, even the military, which has been a launchpad to a good life for many not-academically-oriented people.
5. Obama's promise of a path to citizenship for the U.S.'s 12 million illegal immigrants. As many people have written, the social costs will be enormous, especially when the unskilled laborers' bodies break down and thus, uneducated and often speaking poor English, are likely to become expensive wards of the state.
But even before that, the unprecedentedly large uncontrolled immigrant population, with its high crime rate, health care needs, education needs, birth rate, and low-taxpaying rate, promises to be devastating to the U.S.
And Obama's policies, in fact, are likely to be even more extreme. As I asserted earlier, like most politicians, Obama won't be as centrist as his campaign implies. That is especially likely in Obama's case because he will have a liberal, possibly filibuster-proof Congress, an adoring media to promulgate his positions, and because he has had substantive formative relationships with hard leftists. I'm not mainly talking here about William Ayres or Rashid Khalidi, with whom Obama seems to have had a limited relationship. I'm more worried that:
The Obama campaign's official blogger is

Sam Graham-Felson

, who, for example, in 2006, wrote, in the magazine

Socialist Viewpoint,

an article supportive of the leftist French rioters. (Remember the p

ictures of rioters burning cars?

)

Obama's and his family's mentor for two decades and campaign advisor until the media reported it, was radical theologian

Reverend Jeremiah Wright, who repeatedly gave

anti-white, I hate-America sermons

including the famous "God Damn America" sermon. (Just because that is old news doesn't make it invalid news.)

During his formative years, Obama was mentored by Communist party member

Frank Marshall Davis.

Obama co-founded and his wife was on the board of

Public Allies,

which despite its moderate-sounding mission statement, in practice appears to have been quite an anti-male, anti-white, anti-capitalist organization.

His integrity is suspect. He promises to listen to all sides, yet all his advisors are left of center, he was quite involved with felon Tony Rezko, and he promised to limit his campaign's spending, but when he figured he could raise more money than McCain, he reneged on that promise.

The nonpartisan

National Journal

ranked Obama

America

's #1 most liberal senator, more liberal even than the socialist senator, Bernie Sanders.
All this scares me because I believe--although no one can be sure--that cautiously regulated capitalism is, long-term, the approach most likely to bring the most good to the most people, and ironically, that a big leftist government is, long-term, likely to lead to increased poverty and pain.
Most empires, for example, the Roman, Ottoman, and British, had relatively short hegemonies. I believe the U.S.'s is quickly ending and Obama will accelerate it, leading us into, long-term, an ever-lower standard of living.