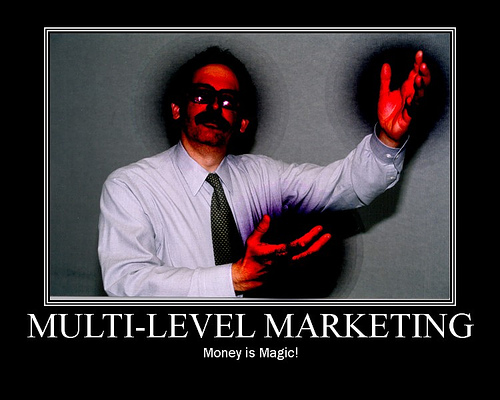 A client asked me, "Should I go into a multilevel marketing business?" (They're also known as MLM or network marketing.)
MLMs are businesses in which you try to make most of your income not by selling product but by recruiting others to sell product.
I had known little about MLM except that I knew two people who tried it and neither made money. One ended up with a lot of water filters and the other guy a garage full of laundry products.
So I did some reading about MLMs. In an era gone by, when many people lived rurally and few stores served them, MLMs had some viability. Indeed, Avon, Electrolux, and Tupperware started as MLMs. But today, with value-priced retailers of nearly any imaginable product even in rural areas (e.g., Wal-Mart) and the Internet serving nearly everyone, I believe MLMs are a bad business to get into. One major reason: If a product is worth selling, it will be available online or in stores--no need for an expensive, multil-level distribution network.
Indeed, the Wikipedia profile of multilevel marketing includes these reports on income earned in multilevel marketing:
The

London Times

reports that a British government investigation revealed that just 10% of Amway's British agents made

any

profit.

Newsweek

reported that, based on Mona Vie's ($40 a bottle juice) own income disclosure statement "fewer than 1 percent qualified for commissions and of those, only 10 percent made more than $100 a week.

"

USA Today

reported that "The Direct Selling Association (an advocate for the industry) says the median annual income for those in direct sales (MLM) is $2,400."
The Federal Trade Commission among others warns than many MLMs are little more than pyramid schemes, in which the goal is not mainly to sell product (like high-priced juice, vitamins, skin cream, etc), but to convince friends and neighbors to sign up to sell those products, which generates money for the recruiter. Too often, the main result is friends and relatives who resent you because of your sales pressure and/or because they ended up not making a living but losing money.
I certainly understand why, with today's high un- and underemployment rate, MLM appeals. After all, President Obama promised that if the taxpayers coughed up the $1 trillion in attempted stimulus spending, the unemployment rate would decline from the already high 8%. Instead it has leapt to 9.8%, and the underemployment rate is twice that.
Nevertheless, in my opinion, for almost anyone, there are wiser approaches to self-employment than a MLM scheme. If you're looking for a structured approach to self-employment, I suggest you forgo both MLMs and franchises, and instead, scout around for a successful simple business (e.g., a gourmet sandwich truck), and hire its owner to coach you in starting one.