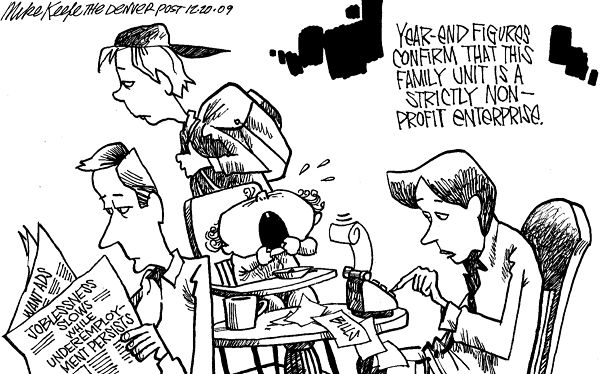 A more accurate way to compute the underemployment rate would include:
Unemployed

and actively looking for work (currently 9.8%)
Discouraged workers.

Those who'd like to work but have given up. (another 10%)
Underemployed

. Those working part-time who'd like to work full time (another 10%)
Misemployed job level.

Those working at a lower-level job than they're qualified for (I estimate another 15%)
Misemployed interest area

. People who dislike their field of endeavor but felt forced to be in it because of a lack of jobs in a field they're interested in, for example, the arts. (I estimate another 20%).

In sum, I believe that well over half of Americans are not doing work they're satisfied with. (And that doesn't count the many people who don't like something about their particular job: their boss, coworkers, the employer's ethics, etc.)
What to do to reduce the underemployment rate?
A national jobs database so employers and employees could more efficiently be matched.
Career advising starting in the 8th grade so more people could, early on, identify a well-suited career goal.
A public service announcement campaign encouraging people to hire tutors for their kids, personal assistants for themselves, and companions for their elderly relatives. That would create millions of pro-social jobs that currently don't exist.
Have all high school students take a course in ethical entrepreneurship. People with new business ideas create jobs while meeting the citizenry's unmet needs.