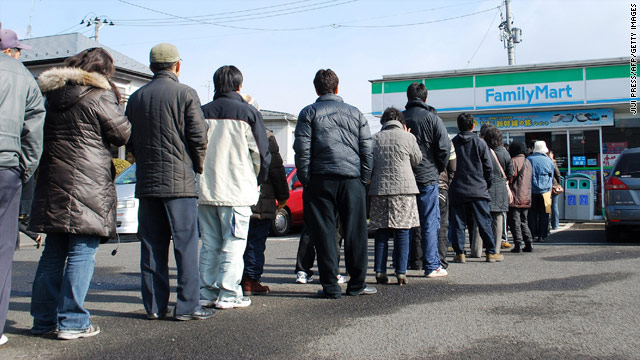 These are my Twitters following the Japan quake:
Kudos to the Japanese. Unlike after disasters in the U.S. and other countries, there's been no looting and no rioting. Discipline is key to success.

Note: The picture above is of residents of Sendai, the city suffering the most damage, waiting in line at a convenience store, following the earthquake and tsunami.

Poor Japan, victim of nuclear bombs at Hiroshima and Nagasaki, now facing possible nuclear plant meltdown.
Could there be a God worth praying to if s/he wouldn't stop disasters like the Japan quake/tsunami/nuclear threat, or billions, including infants, dying of excruciating diseases?

Luck is so much more important than we acknowledge. The 40-year old Fukushima nuclear power plant was scheduled for closure in 2 weeks!

It appears the meltdown will be only partial, with the radiation remaining in the containment structure...Let's hope

(Note : two items have been deleted from an earlier version to reflect new facts.
Buy on bad news: I plan to buy SHAW, which builds nuclear plants. I believe Fukushima will increase interest in new-generation, even safer plants. My plan: It has dropped 19% in the first hours the stock market opened. I will wait until SHAW rises 10 percent. That would give me sufficient optimism that downtrend is reversing.
Update: I bought 100 shares at 31.69 after it rose 10% above its low of 27.60. It subsequently rose to 34. There's been more bad news so it's back down to 31.51. I'll keep watching it. When it rises 10% above a more recent low, I'll buy more. Of course, there's a possibility that Fukushima will cause a decade-long slowdown in the nuclear industry. That's why the price has dropped 25% in a week, but I predict that, long-term, there will be much more nuclear building--of course, with super safe (and therefore more expensive and profitable to Shaw) designs. Solar, wind, etc., just can't produce enough energy. And fossil-based fuels are running out, bad for the environment, and make us dependent on the Middle East. Safely located, very safely designed nuclear is going to be key to our energy future. And, believing in the criticality of buying good stocks on bad news, I believe that buying SHAW when it shows early signs of recovery is wise. A perhaps less risky alternative is to similarly buy top-quality Japan stocks: e.g., Toyota, Sony.