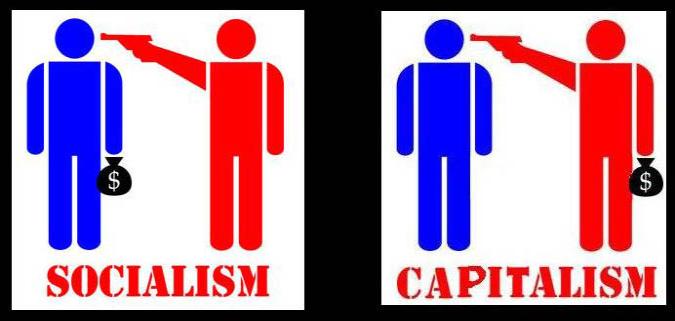 I end each of my radio shows by saying: "We find comfort among those who agree with us; growth among those who don't."

In my own effort to keep growing, I thought that I--who lean libertarian--would do a thought experiment: make the best case I can for socialism.

When I was younger, I believed that one pretty much gets what one deserves. Now I believe that luck plays a large role in one's success. For example, I'd be far less successful if:

I were born to retarded parents in Bangladesh, or

I inherited genes predisposing me to low intelligence, laziness, and poor impulse control, or


I inherited a horrible disease, or

I inherited an unattractive face or propensity toward obesity. Alas, study after study shows that attractive, slim people derive career and personal advantages.
Then there's the luck of being at the right place at the right time:
You met someone who gave you a great job.

You happened upon someone who gave you a suggestion that turned your moribund idea into a successful invention.


You happened upon someone who turned out to the perfect spouse and cheerleader for you, enabling you to be far more successful than you otherwise would have been.
Then there's the luck of being in the wrong place at the wrong time:
Getting crippled by a car that ran a red light.

You entered nursing school because the government projected high demand for nurses but by the time you graduated, the market had become saturated.
If I suffered even one of those pieces of bad luck, I would not have been as successful as I've been
, no matter how hard I worked
. From a cosmic justice perspective, it strikes me as unfair that because of something beyond one's control, they should suffer such diminished potential for success and contribution.

Therefore it seems appropriate that government help compensate for the unfairnesses that accrue to the winners and losers in the genetic and environmental lotteries. Socialism does that: everyone gets paid, gets the same benefits, etc.

But you say, "If everyone gets the same pay, benefits, etc., what incentive is there for people to work hard?" Of course, external incentives matter but I wonder if they matter as much as pure capitalists claim. Studies find that most, though certainly not all, people are motivated to work less by cash than by praise, wanting to a good job for its own sake, etc.

Whatever decrement in motivation would accrue from eliminating dollar incentives for quality work could at least in part be compensated for by a more concerted effort by parents, schools colleges, and media to emphasize the primacy of productivity and contribution to society.

Any residual decrement in productivity would be outweighed by everyone having a humane level of housing, food, health care, etc. From the aforementioned cosmic perspective, there's something wrong about a society in which some people have mansions and optimal health care while others are homeless and have minimal health care. Socialism addresses that.

That said, I'm not completely convinced that socialism is, net, better than capitalism. After all, I am well aware of how grossly inefficient and wasteful government is, and that many people

are

motivated to work harder and longer by money and competition. But I can't with utter confidence assert that pure capitalism is the wise way.
Perhaps the answer is an amalgam of socialism and libertarianism. In what I'm calling libertarian socialism, the government would pass a law mandating that all people get roughly equal pay, health care, housing, etc. but leave how that all would be accomplished to the private sector.

Or perhaps the right approach is America's status quo: what I call

cushioned capitalism,

capitalism with a humane safety net for the many people with the cards stacked against them in capitalism's ever more fierce competition.

Dear readers, your thoughts?